Welcome from our Pastors... Keith and Peggy Dickerson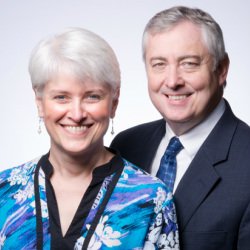 At Hope our goal is to help others...
- Know God better.
- Live a healthy and balanced life filled with joy and peace.
- Join others in encouraging our community and world.

After 34 years of marriage, four children and two grandchildren we still find great satisfaction in serving our church and community. We invite you to share the journey with us! Worship and learning events are held in a warm and casual "come-as-you-are" atmosphere. We are a loving fellowship and enjoy welcoming others. "Be our guest this Sunday" and experience God's Word in ways that will inspire and encourage you as you begin the week!
---
Connect with us:

Call us at:

503-635-4880

E-mail us at:office@hopeoswego.comVisit or write us at

:

Hope Community Church of Lake Oswego

14790 Boones Ferry Road,

Lake Oswego, OR 97035